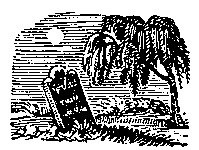 Links
to resources
on cemetery history
and preservation
Cemetery Preservation
Cemetery Lists and Directories of Decedents
GraveNet, a project to give K-12 students an opportunity to investigate community history, geology, etc., through cemeteries, by providing lesson plans and other resources.
Cemetery Studies: taking 8th grade classes on cemetery field trips.
alt.society.funerary, Usenet newsgroup.
Grave-L, a mailing list for taphophiles: "Grave-L focuses primarilly on the sociological, anthropological, historical, artistic, spiritual, folklore, and other nonmorbid aspects of cemeteries and sepulchral culture. We're not a Goth or horror list, though persons with such interests are welcome to join and participate in the discussion. Genealogists should be aware that we aren't much of a help for cemetery look-ups, though you can always ask."
CEMETERY-L: "An 'Old Bones' mailing list for people interested in the many aspects of family graves from caring for the grave of one ancestor to the restoration and preservation of the family cemetery. Areas of discussion will center around the restoration, preservation, and recording of small cemeteries and will include cleaning and repairing broken headstones and recording headstone inscriptions, how to better read old headstones, and determining where ancestors are buried. This is not a list for cemetery lookups."
Organizations and Publications
History, Culture, Sociology, and Images
Services for Historic Cemeteries and Researchers
Specific cemeteries and sites: U.S. by state and city or county
Alabama

Arizona

Santa Cruz County

Black Oak Cemetery (a pioneer cemetery), Canelo, 9 miles south of Elgin -- Partial listing of headstones and burials.

California

San Franscico Bay Area

Bay Area Cemeteries -- Web site with pages for eight Bay Area cemeteries, with profile of each and photos; created by Christis Loizou.

Santa Cruz

Evergreen Cemetery -- brief intro. <! or http://www.cruzio.com/arts/scva/evergreen.html >

Los Angeles

Catholic cemeteries -- Official web site provided by the Archdiocese of Los Angeles, with information and photos for eleven cemeteries.
Evergreen Cemetery -- web page at USC with brief history and photos.

Connecticut

Hartford

Cedar Hill Cemetery -- official web site, with visitor information, history, tours, events, customer information, etc.

New Haven

District of Columbia

Washington

D.C. Cemeteries -- Web site with pages for seven Washington and nearby cemeteries, with profile of each and photos; created by Christis Loizou.
Congressional Cemetery -- Web site with news, brief history, newsletter, etc.
Oak Hill Cemetery -- Brief history (with emphasis on connections to Smithsonian Institution).

Florida

Georgia

Atlanta
Columbus
Milledgeville

Memory Hill Cemetery -- web site with history, index, gravesite photos and more.

Hawaii

Illinois

Chicago

Matt Hucke's Graveyards of Chicago, with detailed information and great photographs of many Chicago-area cemeteries.

Iowa

Cedar Rapids
Wapello County

Kitterman Cemetery -- web site with listings and photo.

Kentucky

Mayfield

Highland Park Cemetery, Maplewood Cemetery, and Oak Rest Cemetery -- Mayfield Cemeteries web site with interment listings; includes a large photo of "the strange procession that never moves" (unusual monument).

Louisiana

Maine

Bangor

Mount Hope Cemetery -- official web site with photos, history, searchable database of burials, and sales information.

Saco

Laurel Hill Cemetery -- web page by Saco Bay Trails, with photo, map, description, and a list of prominent burials.

Massachsetts

Barnstable County
Cambridge

Mount Auburn Cemetery -- Official Site with photos and history; tour with many photos (by University of Virginia History of Landscape Architecture); web page of the Friends of Mount Auburn organization; brief article about creation of "Trees of Mount Auburn Cemetery" map.

Minnesota

Missouri

Nebraska

New Jersey

Plainfield

Plainfield Burial Ground (at Friends Meeting House) -- burial listing.

Princeton

New York

North Carolina

Charlotte

Settlers Cemetery -- web site with virtual tour

Ohio

Oregon

Salem

Pioneer Cemetery -- web site sponsored by Friends of Pioneer Cemetery.

Pennsylvania

Philadelphia

Congregation Mikvah Israel Cemetery -- web page at ushistory.org

South Carolina

Tennessee

Texas

Austin:

Oakwood Cemetery -- web page at the University of Texas, with one photo, listing prominent burials.
Texas State Cemetery -- official web site with history, photos, and a searchable burial list with some headstone photos and biographical information.

Denton County
Harris County

Utah

Mendon

Mendon City Cemetery -- web site with a few photos, map, history, and complete burial listings.

Virginia
Specific Cemeteries and Sites: World
Books About Cemeteries
(in association with Amazon.com)

---
Created and maintained by Lawrence Kestenbaum. Send me mail at political.graveyard@gmail.com; visit my homepage at http://www.potifos.com/.
Page created in 1996; last changed July 28, 2013